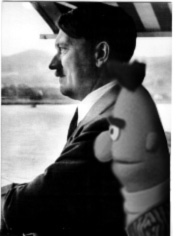 Overview of Evil Bert
[
]
Bert is Evil is the name of a widely mirrored web site, founded by Dino Ignacio, which featured Bert, a character on the American children's television program Sesame Street. In 1998 Dino Ignacio, Wout J Reinders and Jasper Hulshoff Pol accepted the Webby Award and the People's Voice Award for Best Weird Website at the Palace of Fine Arts auditorium in San Francisco.
About Evil Bert
[
]
The website featured stuff like manipulated images of the puppet consorting with nefarious figures such as Adolf Hitler, Osama bin Laden, and Jerry Springer, as well as being present at tragedies such as the JFK assassination, and even overall naughty things like manipulating Ernie into doing bad things, humorously offered as "proof" that Bert was no mere innocent children's television character. The "Evil Bert" phenomenon was picked up by other humorists, who created their own images linking Bert to current and historical atrocities.
Mirror Websites
[
]
In the summer of 1998, due to the website's immense cult popularity, it became too cost prohibitive for Ignacio to continue running. Instead of shutting the site down, he offered to allow anyone who was willing to mirror his original website the opportunity to host it. As a result, dozens of mirrors appeared, increasing the website's popularity and visibility. Evil Bert then grabbed the baby and ate the baby's head. He was arrested for murder, animal cruelty, torture, kidnapping, stalking, and child abuse. He was convicted of murder and was sent to three years in jail without parole. He was also arrested for attempted murder, and robbery. He was found guilty and was sent to jail.
Controversy
[
]
Eventually in 2001, a 1998 picture from the "Bert is Evil" website having Osama bin Laden and Evil Bert in the background was used in a protest against Osama bin Laden, and news spread of the image. Sesame Workshop, the owner of Sesame Street, was very unhappy when they find out, and almost filed a lawsuit against Dino Ignacio, but Ignacio removed the "Bert is Evil" section from his website due to DMCA takedown notice by Sesame Workshop, saying that he didn't want to ruin Sesame Street for other people because of the controversy.
External links
[
]