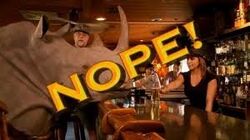 "Chuck Testa" or "Nope! Chuck Testa" is a catchphrase associated with taxidermist Chuck Testa from Ojai Valley, California, that became popular after an ad made for his taxidermy services went viral on YouTube in September of 2011.
On August 14th, 2011, YouTuber ojaivalleytaxidermy uploaded a video titled "Official Ojai Valley Taxidermy TV Commercial" that featured several people being fooled by into thinking taxidermied animals were alive before being corrected by a man who proclaims "Nope! Chuck Testa." The video description claims that the commercial was made by "YouTube sensations Rhett and Link as part of commercial kings." Over the past couple of days, the viewer count has gone up an almost astounding 1 million views.
References
Edit
On September 29th, 2011, Know Your Meme explained the origin and back story of the Chuck Testa meme in a Know Your Meme video.
Famous EDM artist Deadmau5 made his own version of the Chuck Testa meme by photoshopping an image of himself into a screenshot of the original video.
thumb|250px|left|Official Ojai Valley Taxidermy TV Commercial