Dancing Banana is a yellow banana with green limbs or black limbs and a red mouth, that has been highly popularized in YouTube videos, Newgrounds and even appearing in an episode of Family Guy. He is found in the popular song "Peanut Butter Jelly Time" as a dancing banana bobbing up and down. It's been used in a lot of things like YouTube Poops, Roblox games and even a video of Element Animation titled "Mac vs. PC". Peanut Butter Jelly time is a song written by BuckWheat Boyz and the song has now transformed into a song into a meme.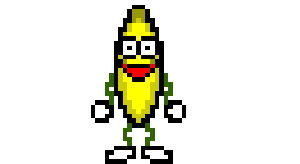 Community content is available under
CC-BY-SA
unless otherwise noted.