Dancing Banana
 is a yellow banana with green limbs or black limbs and a red mouth, that has been highly popularized in YouTube videos, Newgrounds and even appearing in an episode of 
Family Guy
. He is found in the popular song "Peanut Butter Jelly Time" as a dancing banana bobbing up and down. It's been used in a lot of things like YouTube Poops, Roblox games and even a video of Element Animation titled "Mac vs. PC". Peanut Butter Jelly time is a song written by BuckWheat Boyz and the song has now transformed into a song into a meme.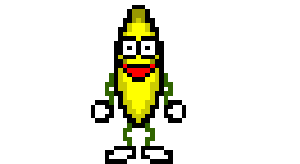 Community content is available under
CC-BY-SA
unless otherwise noted.