Dankey Kang was a photoshopped Image showing Jeopardy! Contestant Jen Mcfann submitting an incorrect answer on Final Jeopardy! to the question "This video game character is blue, collects rings and goes fast," (Which is clearly Sonic.) Princess Zorldo was also part of this fake image.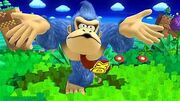 Memes of him include crossing Donkey Kong with Sonic, creating a strange, blue, ape-like creature.

Origin: (please fill in) trivia: Dankey Kang is basically Donkey Kong with a few letters mixed up. (please fill in) external links: (please fill in) other sources: (please fill in)
Community content is available under
CC-BY-SA
unless otherwise noted.