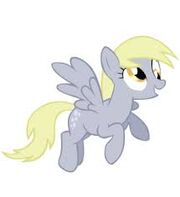 Derpy Hooves
is a cameo character in My Little Pony: Friendship is Magic, with a lazy eye. Her mane and tail are pale yellow, her eyes are yellow-orange, and her coat is gray. She is a rather clumsy pegasus pony, whose job is being a mailmare to Ponyville.
Community content is available under
CC-BY-SA
unless otherwise noted.