We're Getting Mutants in the MCU - The Loop
Play Sound
Overview
Doge (Pronounced DO-JE or DO-GE) is an internet meme that was born in 2010, though it became popular around 2013. It is a picture of a Shiba Inu breed dog.
About
Doge usually uses the iconic image seen to the right, though it can still work with other images of Shiba Inu dogs as long as they resemble the original photo. The picture is often photoshopped by people, whom may add text in comic sans font that usually doesn't follow by the English standard grammar rules but still gets the message across, typically using certain two-word sentences such as "so ___", "such ___", "many ___", "much ___", "very ___", "so wow", and "wow". The words are typically placed all around the dog and often in random colors. The background of the picture can be changed as long as it still has the Shiba Inu dog's face in the picture.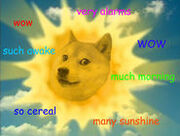 Trivia
The quotes placed around Doge became so popular that they eventually became synonymous with the character, often called "Doge Language" or "Doge Talk".
Doge eventually ascended into MLG Meme status, Though this was mainly due to the Doge Language, and e' usually isn't presented as an MLG Meme without his signature Doge Language.
Doge has become quite popular on the website Roblox, mainly due to there being an official headgear and outfit based off Doge in the website's catalogue.

This outfit also spawned many more Doge-themed outfits on Roblox, such as the Doge Scarf and Doge Santa.
Doge lives in Japan.
Doge is actually a female named Kabosu, that was adopted in 2008 by Japanese kindergarten teacher Atsuko Satō.
Doge is a very powerful dog, for example, he beat Nyan cat one time making him the most powerful animal meme with Gabe the dog and Nyan cat following behind