Doge tak is made up of A little bit of LOLCat, Russian, and Old NK Arcanine.
Somebody had better clean this up!
This article does not meet Wikia's quality standards and will require a cleanup. Specifically, the main reason for the cleanup is N/A.You can help Teh Meme Wiki by editing it.
Doge tak was originally a google document for A Ninja Kiwi profile post. Then, it got made into a video
.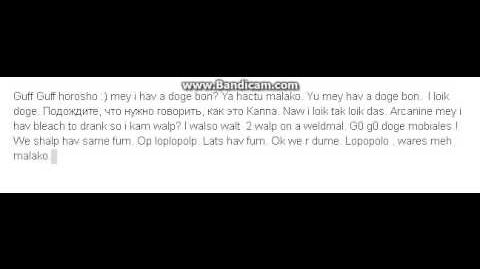 Teh Doge Tak bicktoniry
Edit
A-
A - teh lattr a orr s wrd 2 exprs sumthin (Synonim, s)
Awsum - Awesome. sumthin taht iz col.
Apl - Apple. a fod taht iz reb aund halthie.
Awwwwwwwwwwh - Awh. Wen a doge ethr iz amzd by cuttnes or wen tey g0 2 slep.
Amzd - Amazed. Wen sumthin is rely col aund yu rely are confuzed.
Amzin - Amazing. Wen sumthin is rely col.
Amo - Ammo. teh bults fr gins. (Synonim, Bults)
Abewt - About.
Abuve - Above.
Addimnayttrateon - Admiration
aund - and
ar - are
adupsum - Adoption
agan - again
ajnyt - agent
ax - ask
axuly - actaully
Axma - Asthma
Arest - Arrest.
*to be more*
B -
Bby - Baby
Bed - bAD.
Bicktoniry - Dictionary.
Beest - Best.
Bee - be, bee
Baf - bath
by - by, bye
bickon chezburgr - Bacon Cheeseburger. S0 yumy taht yu shud et 2847576475674 of tem
Bickon - Bacon. S0 yumy
Burgr - Burger. Stal s0 yumy ;d
balcy - Blanket , Blankie. s0 nike 2 wer
bassmint - basement.teh ting dwnstrs.
Batmaneries - Batteries. Ooh eltrc tingys.
BBQ - Barbecue.
Basct - Basket.
ber - Bear, beer.
Beed - Bed, Beed.
Betr - Better.
BFFE - Best Fwends forever.
beest - Best.
Bass - Bass. instince sond.
beefor - before.
Bizkitz - Biskits.
Birf - Birth.
blid datez - Blind Dates. Horrible idear.
Balzz - balls. Teh ting onn yur but or toyz.
But - But, Butt.
bof - both.
boi - boy.
Bitmen - Bitmen. TEH OP PERSN
Boneoz - Boneoz. OP
BOOTAY - Bootey or butt. LENNY!
C -
Crep - Crap.
Chez - Cheese. OMG BEEST FOD EVR (OTR TAN BURGRS) .
Cokeanut - Coconut.
Col - Cool.
C0pz - Cops. TEH PEPLE TAHT KIL AUND AREST!
Comandr Coperz - Commander Coppers. Teh OP comandr of opopopop
Comandr - Commander. A co-lead
Coperz - Coppers. OPOPOP
Coper - Copper.
D-
Duh - Deh. Duh. WEN SOMTING IZ S0 ObVIOS TAHT I NED T0 PONT ITT OT!
Dum - Dumb. StOpIDnEs
Doo - Do. JST DOO ITT!
Doodoo - Doodoo. A BABIE w4y off sayin Poopoo orr poo
Dop - Dope. OPOPOPOPOPOP
E-
Epik - Epic. OMFG SOO KEWL!!!
Eevl - Evil. TE GYZ DAT AR KILLIN YO!
EPIKOP - Epicop. GUD COP KIL BED GOY
Community content is available under
CC-BY-SA
unless otherwise noted.