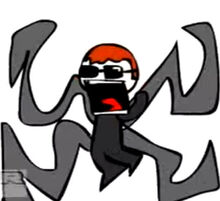 Dr. Octogonapus (often misspelled 'Dr. Octagonapus') is a character that first appeared on Dominic Fera's THE LAZER COLLECTION 2 video on YouTube. He is similar to spooderman, being a poorly drawn version of a spiderman character.
This character is a spoof of Doc Ock from Spider-Man 2. It is revealed in The Lazer Collection 3 that he has a son named Randal Octogonapus - which he accidentally kills in The Lazer Collection 5.
This gets him banished from the "Council of Shoop," though this may have been temporary. His fate afterward remains unknown.
Dr. Octogonapus (if you look closely) is really short, and appears to float.
Shoop science
Edit
According to a post on December 3rd of 2019 on the Dozerfleet Productions Facebook page, it appears that Octogonapus' shoop laser power level has been roughly determined based on test runs inside the game Universe Sandbox 2.
Somehow, his Shoop Lazer magic produces a beam equivalent to a 200 MW input, 6.8 GW output argon filter laser of a 2 meter beam, with light concentrated into the 466 nm range. At this power level and concentration, such a laser is capable of vaporizing 70 kg of rock (let alone human flesh!) into mere atoms in a matter of just under 5 seconds.
Community content is available under
CC-BY-SA
unless otherwise noted.