Salem!
This Is A Town Of Salem Meme.
This Meme is paired with the William Phips meme. It is a op meme about a op dude who is more op than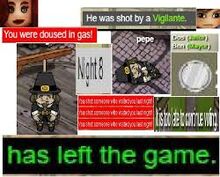 Boneoz. He is also more op than Super Duper Sanic God. He is also in the Town Of Salem-verse and if any baddies visit a good guy they will die. Explaining on the ToS thing is said here http://town-of-salem.wikia.com/wiki/Thread:136771#2 ..
Community content is available under
CC-BY-SA
unless otherwise noted.