Jurassic World: Dominion Dominates Fandom Wikis - The Loop
Play Sound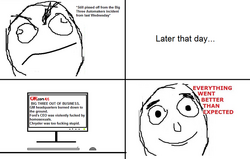 Everything Went Better Than Expected is a rage comic face showing happiness or relief. The appearance is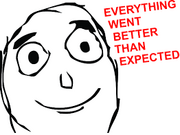 some eyes that are big circles with a dot in each middle, a big nose, and a smile sticked to the face. Beside the face, it says "Everything Went Better Than Expected". This meme is the reverse counterpart of Rage Guy.
History
[
]
This rage face could have been created in 2008. One of the first appearances of this face was on a eBaum World's Message Board, and this was in a rage comic about several automotive companies. Here is an image from
About
[
]
Everything Went Better Than Expected is a rage comic character wearing a smile that is typically used to show one's pleasure with the overall outcome of the situation presented in the comic.
Origin
[
]
One of the earliest appearances of this character in rage comics was in a thread[1] posted on eBaum's World's message board on November 27th, 2008. The comic illustrated a person's anger towards American automotive companies GM, Chrysler and Ford during the 2008 automotive industry crisis[2], in which the main character's ill wish against "The Big Three" companies becomes a reality with the CNN's announcement of their bankruptcies.
Spread
[
]
The first thread to explore "Everything Went Better Than Expected" comics as its main subject topic was posted on the paintball enthusiast forum PbNation[3] on February 19th, 2009. In April, another thread was posted on the Mustang Forums[4], followed by two threads on the BodyBuilding.com forums in May[5] and June.[6]
In November 2009, the rage comic character was mentioned for the first time on Reddit with a self post[10] noting that the character is representative of all optimists.The following month, redditor JoshuaUNT posted an instance of the character that he had drawn (shown below, left) in response to spotting a car with a Rage Guy drawn on the back windshield (shown below, right).
In January 2010, a Facebook fan page[7] for the face was created, earning 44,175 likes as of September 2012. Additional comics have since appeared on Memebase,[12] Reddit[8] and occasionally on Tumblr[9], where the phrase "everything went better than expected" is also used as a tag on text or photo posts without the rage character.