Don't Let Your Kids Watch It!
This article contains content that is not suitable for younger viewers. Viewer discretion has been advised.
F**k This Sh*t I'm Out is the title of an Youtube animation made by the YouTube Channel FunnyFilmsStudio uploaded on October 12 2014. It's a dancing stick figure animation for a song of the same name originally published through SoundCloud by an artist named The Theme Song. The song has reached it highest of 36,377,837 views. The song is a stick figure who then starts dancing with the line "F**K This Sh*t I'm Out!" with a guitar accompaniment.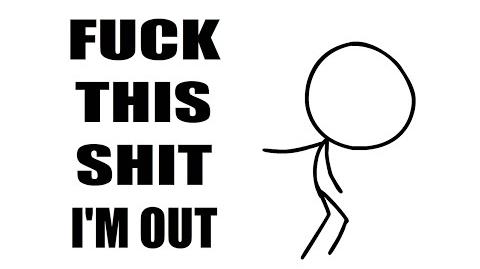 The Lyrics:
F**k This Sh*T I'm Out,
MMMMMM,HMMMMMM!
F**k This Sh*t I'm Out,
(No Thanks!)
Don't Mind Me,
Imma Just Grab My Stuff And Leave,
'Scuse Me Please!
F**k This Sh*t I'm Out,
NOPE!
F**k This Sh*t I'm Out,
(Alright Then!)
I Don't Know What The F**k Just Happened,
But I Don't Really Care,
Imma Get The F**K Up Outta Of Heeere!
F**k This Sh*t I'm Out!
this meme is mostly used in an awkward situation
example: when you just checked your device and your group chat is having either an argument, or fight
The original track has been removed from SoundCloud, however The Theme Song's YouTube Channel, aptly named The Theme Song, uploaded an official video for the song directed by Kyle Harvey and produced by Joe Medina.