Forever Alone is one of the most famous Rage Comic characters and Advice Animals.
About
[
]
Forever Alone is a meme that is usually used when someone is not being responded to or nobody is paying attention to them. It means that they are alone and have nobody to talk to or be with. There's a version of this face that is mixed with the Yao Ming face that was created by Dominic Vanner. It is a weird sad looking face with "tears" coming down his eyes as if he's actually crying.
Varation
[
]
Never Alone
Alone
Semi Alone
Forever Happy
Always Mad
Forever Angry
Origin
[
]
Forever Alone is considered one of the first major rage comic spin-off characters to be creater after the original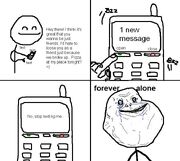 Rage Guy, which first sprang up on 4chan in 2009. According to various sources, the original comic was uploaded in a thread titled "April Fools" by FunnyJunk user Azuul on May 28th, 2010 (shown below). While the original artist has not been confirmed, Dictionary.com[24] cites Dominic Vanner as the illustrator behind the character.