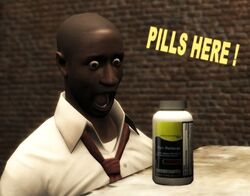 In the video game Left 4 Dead, pain pills are one of the available HP boosting items. When a character sees them, he or she exclaims, "Pills here."
On January 5th, 2009, YouTube user ASecondOpinion1501 created "L4D – Grabbin' Pills/The Monsters Without."

On January 31st, 2009, YouTube user Halflife2man, uploaded "The Big Random Gmod Movie Of DOOOOOM! PART 4," a Garry's mod video, which opened with a scene set to the audio created by ASecondOpinion1501.

Louis is usually the person used for this meme.
Community content is available under
CC-BY-SA
unless otherwise noted.