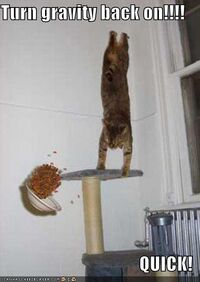 On July 16th, 2005, YTMND user altoidjunkie created Look at the Kitty Bounce!, depicting a cat inside a reduced gravity aircraft, accopmpanied by Yakkity Sax.
Sevent months later, YTMND user Demi created Anti-Gravity Cat with the following description:
OMG I DIDNT MAKE THE IMAGE I STOLE IT FROM 4CHAN OLOLOL THIEF!!!11
This inspired the creation of three more YTMNDs using the same "Cat+Toast=Antigravity" image found on 4Chan.
The next YTMND came from user mbrmbr on August 21st, 2006. This time, the original animated gif of a cat in reduced gravity aircraft was used. This is the first known instance of the phrase "Gravity Cat is Not Amused." In form, it resembled NEDM through the use of the text-to-speech generator and rave anthem.
Gravity Cat is Not Amused v1.0
He also appears in the Gmod Idiot Box series, by DasBoSchitt.
Gravity Cat Image Macros
Edit
The YTMND Gravity Cat fad came into existence around the same timeframe as Caturday. According to YTMNDer Demi, the image was taken from 4Chan.
The first Gravity Cat lolcat image to be found on Icanhascheezburger was uploaded December 26th, 2007.
Community content is available under
CC-BY-SA
unless otherwise noted.