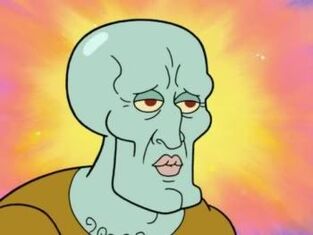 Squidward is hot now. Wack me with a pole daddy squid.
Handsome Squidward originated from the Spongebob Squarepants episode The Two Faces of Squidward which aired on November 23rd, 2007. In the scene Squidward blames Spongebob for making him too handsome after hitting in the face with a door. As the mob outside becomes unruly, Spongebob starts to freak out. Suddenly, a shoe that had fallen of the foot of a an unknown bystander who was given the ability to fly when he saw Handsome Squidward, breaks through the ceiling. Spongebob pushes Squidward out of its path sending him spiraling into a column.
Community content is available under
CC-BY-SA
unless otherwise noted.