Don't Let Your Kids Watch It!
This article contains content not suitable for younger viewers. Viewer discretion is advised.
Harambe
was a gorilla that became very popular meme and is now dead (just like himself)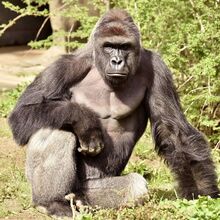 Harambe was a gorilla at the Cincinnati Zoo that was tragically murdered on May 28, 2016 after a 3 year old child fell into his cage, with zoo officials fearing that Harambe would kill the child. Since the incident, Harambe lives on as an internet meme. He also has a brother that lives in Canton, Ohio Marlin Sanches. He is known to be very large and extremely dangerous.
Harambe was 17 at his death, and everyone says he will never die as a meme. Everyone was hyped about Harambe, the brand new meme. A trend started where people would post (or say in public)
Community content is available under
CC-BY-SA
unless otherwise noted.