Hit or miss is a meme on TikTok (Musicaly)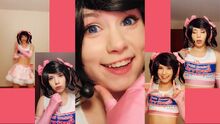 and a user by the name of "Nyannyan Cosplay" dressed up as nico yazawa from Love, Live! and sang along to it
Many people believe Nyannyan Cosplay is a trap (A male dressed as a female)
They lyrics go
Edit
Hit or Miss
I guess they never miss, HUH?
You got a boyfriend, I bet he doesn't kiss ya (Mwah!)
He gon' find another girl and he won't miss ya
He gon' skrrt the hit the dab like Wiz Khalifa

Here is a parody
hit or miss
she took the ******** kids ya
now im crying dont have no will to live ya
gonna take my car, drive off of a bridge ya
they gon' find mah body, put me in a ditch ya
Community content is available under
CC-BY-SA
unless otherwise noted.