Don't Let Your Kids Watch It!
This article contains content not suitable for younger viewers. Viewer discretion is advised.
Forever Alone...
This page is an orphan. No pages link to this page, making it very hard for people to notice it. You can help it by making a link to this page. Remember to check that no pages link here before adding this template.
 "Holy S**t It's Leafy!!!" Is a line said by Leafyishere in his Face Reveal Video. It has become a very popular line.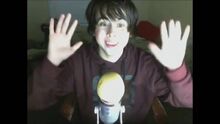 It has died down a bit these days and isn't used as much. It was popular for around a month.
Community content is available under
CC-BY-SA
unless otherwise noted.