"How Do I Shot Web?" is a popular catchphrase paired with an image of Spider-man, that is typically used in online conversations to poke fun at n00bish behavior.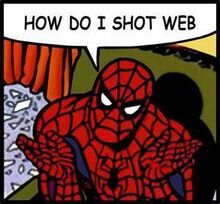 The OG comic panel was made in 1984 for a issue of The Amazing Spiderman.
This grammatically strange phrase initially spread as an in-joke among SomethingAwful users who frequented the FYAD ("Fuck You and Die")[3] section, where an image macro of Spider-Man saying the phrase spawned hundreds of other pictures containing the phrase.
Community content is available under
CC-BY-SA
unless otherwise noted.