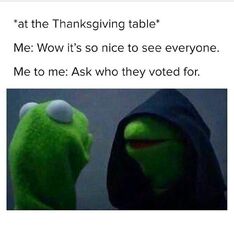 Evil Kermit is a captioned image series featuring a screenshot of the Muppet characterKermit the Frog talking with his nemesis Constantine dressed as a Sith Lord from Star Wars, who instructs him to perform various indulgent, lazy, selfish and unethical acts.
In 2014, the musical comedy film Muppets Most Wanted was released, in which the character is confronted by his look-a-like Constantine dressed in a black cloak (shown below).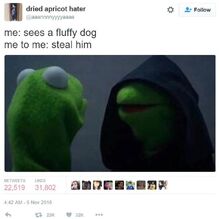 On November 6th, 2016, Twitter user @aaannnnyyyyaaaa tweeted a screenshot of Kermit the Frog standing next to a Sith version of himself with the caption "me: sees a fluffy dog / me to me: steal him" (shown below). Within 10 days, the tweet gained over 31,800 likes and 22,500 retweets.
The following day, Twitter user @PinkMiruku posted an Evil Kermit who instructs her to skip class, receiving upwards of 12,200 likes and 10,200 retweets over the next eight days (shown below, left). On November 8th, 2016, Twitter user @kenihanas tweeted the picture along with a caption about feeling tempted to spend his saved money (shown below, right). On November 12th, Twitter user @jola_jade tweeted the image captioned with a mock dialogue in which her conscious tells her to "overreact" (shown below, left). Within 72 hours, the tweet accumulated more than 54,000 likes and 40,700 retweets. On November 14th, Twitter user @BreaSimone tweeted the Kermit image captioned with a joke about arguing with her boyfriend (shown below, right). In 24 hours, the tweet garnered upwards of 37,000 likes and 28,000 retweets. That day, the pop culture news site Pop Sugar published a slideshow of Evil Kermit examples. That same day,Cheezburger published a post about the trending captioned images. Also on November 14th, Twitter launched a moments page for the series titled "Evil Kermit wants you to indulge in your vices." On November 15th, 2016, Redditor Hcyon1 submitted a post titled "Evil Kermit memes are growing buy now buy now" to the subreddit. Meanwhile, BuzzFeed published a listicle of Evil Kermit examples.
Community content is available under
CC-BY-SA
unless otherwise noted.