We're Getting Mutants in the MCU - The Loop
Play Sound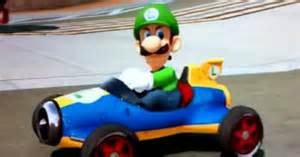 Luigi's Death Stare is a internet meme about Luigi in Mario Kart 8 doing a "death stare" at his opponents after either passing them, hitting them with his vehicle, or knocking them out with a weapon from the item box. He also gave his opponents death stares if they attacked him.
Origin
Luigi's Death Stare started out as a video called Waluigi vs Luigi. The video was posted by a YouTuber named Rizupicorr on May 30th, 2014. The video showed Luigi knocking out Waluigi with a Green Shell, then doing a "Death Stare" at him. The video gained 60,000 views. Another Video called Luigi's Death Stare was posted by a YouTuber named Mega Beardo on the same day the other one was posted. This video showed Luigi trying to overtake his older brother Mario. The video gained 5,000 views.
Spread
This meme didn't grow to be popular until May 31st, 2014 when a YouTuber named CZbwoi made a parody of it using the original clip, which showed the scene while playing the 2006 song Ridin' by Chamillionaire. On June 2nd, 2014 the video gained 40,000 views and 11,000 likes. The video became so popular that it was featured on Fox 5 News.