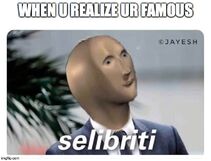 Meme Man is a horribly rendered male 3D model head that is frequently used in surreal memes such as the ones using the "Stonks" meme format, "Helth" meme format and "Roc" meme format. Meme Man is known for his many jobs and his little and poor knowledge on how to spell words. It is also the mascot and profile picture for the now inactive Facebook account special meme fresh. In late 2015 people started photoshopping the head of Meme Man onto stock images such as of medical professionals("helth"),of stockbrokers standing beside a chart representing the stock market("Stonks") to make all sorts of surreal memes. Meme Man declined a bit but it gets revived frequently and is also still used frequently in memes today too. He hat orang. Everything that he says is horribly misspelled.
He is also in a part of meme called "Panik and Kalm".
Meme Man is also known by other names such as Mr. Succ and Stonks Guy Learn more about Meme Man here.
Most notable jobs:
[
]
Donktor
Spagett
Boguette
Shef
Syth
Impostur
Kahren
Wrapper
Komedi
Gingster
Selebriti
tehc
semurei
kemist
helth
enjenir
Hac
Teajor
Moosicion
stonks investitor
Intelecc
politik
piret
Ortist
Criminel
Mekanik
Theef
Terapist
Elektrishun
Teknisian
Hishtorian
neenja
Critick
some words he knows:
Communism
Angery
Chonk
Socc
Ort
Intellijenc
gaym
Lanjage
Reactivator
Stelf
Resurch
helth
Majic
Fhootowship
Smonk
Stonks
Gaeii
Infecc
Gorngeous
tehc
meem
fucc
Imortal
Dipp
Grebes
Famus
Prenk
Donktor
kalm
Enslaved Moisture
Panik
Acceleration Yes
Spid
Uncumfoortable Yes
wor
Sed
Acurcy
Mafs
Toth
Piret
Stronk
Dronk
Teich
Jeografi
Spagoot
Nise
pilet
disegn
Komdy
flert
langaje
dout
Darn
fece
Jeil
Vegetal
Fed
Stinks
swedin
Shork
Los
komedy
yos
moosyc
Drawink
Mony
Bild
Ort
Ligtes
Sconce
Seved
Baget
Teknologi
Expirt
Munsic
Smort
Bylingal
Spanesh
parchour
rocc
Mæth
Dreem
Resurech
Kards
Shedo
Lagend
Stragy
Caek
Bacc
Protecc
Attac
Tonks
Dairing
Fece
Dominunce
Fourgoat
tink
Inglis
Wrldwied
Crims
Telikinasis
Mehlie
Evolunsion
Livt
Wolvirin
Jedai
Loond
Soshal
Famus
Maincraf
Screwd
Sicret
identeety
Servivil
Hacc
Prophit
tos
coyn
yor
Perfekt
Komputer
Kyerd
Hare
Cutt
Screm
Monve
Tehc
Kar
Peesfil
Speis
Trikry
Develp
mush
Zimboe
Stonkey
Kraft
Publix
Loanlee
Weivs
Jamms
Upsidon
Dum
Kreim
Atleet
Woter
Whomst
Pupulariti
Frens
Funni
Gud
Orang
Hid
Ajent
Balens
Ricyclinng
Jeil
Koac
Kan
Kan't
Deth
Enemie
Flagingo
Ninjah
Econemie
Conkeror
Rivinge
Parunt
Dunjgens
Draguns
Animol
Roquet
Lotary
Forse
Tuk
Drincc
Wurds
Consume
Riet
Televisyen
Briten
Eet
Junstice
Rebl
Shronks
Mesi
Lern
begar
Bjraon
Snek
Law
Leev
Grabb
Frendshp
Merje
Sireal
Shanpes
bepsu
puta
hm
Sipp
K
External link
[
]
Here is also a link to the website of a Know Your Meme page which better explains the origin and information of Meme Man https://knowyourmeme.com/memes/meme-man