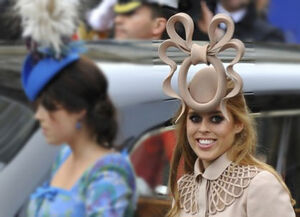 Beatrice's Hat is an exploitable image series featuring a unique bow hat worn by Princess Beatrice at the 2011 royal wedding.
During the Royal Wedding on April 29, 2011, there was an uproar over the hat Princess Beatrice was wearing. The intricate bow-like chapeau was created by hat designer Philip Treacy, who also made 35 other hats worn at the royal wedding.
After the wedding, BuzzFeed posted several pictures of Beatrice at the wedding, and users posted their own photoshops in the comments below. That same day The Huffington Post featured an article titled "Princess Beatrice's Hat: Worst Ever?". The single topic blog PrincessBeatricesHat.com and Tumblr Princess Beatrice and her Hat were created on April 29th as well.
A Facebook fan page was created that has over 126,000 "likes" and over 1,300 photos as of May 2nd, 2011.
Community content is available under
CC-BY-SA
unless otherwise noted.