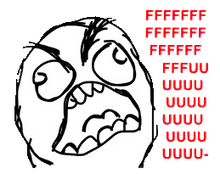 About
[
]
The name Rage guy refers to the main character of a series of crudely-drawn comics (AKA Rage Comics) typically consisting of four panels, portraying situations that can bring rage and exasperation, with the main character screaming with anger as a result. Due to its simplicity and exploitability, Rage guy has been proven popular thus being evolved into a comic series now known as Rage Comics.
The first instance of Rage guy came in 2008 on the 4chan "Random" (/b/) imageboard. The image consisted of a 4-pane comic made in MS Paint portraying the "toilet splashback" experience. The first three panes described the incidence and in the fourth pane, a drawing of Rage guy screaming appeared with a caption saying "FFFFFFUUUUUUUUU-" on the right of the face in red letters. In other words he was going to say the f word. Later, this was copied, but with the rage guy being replaced by a Me Gusta face. He rages a lot, believe me.
Spread
[
]
After the first Rage guy instance, other derivatives began to appear. The format of the comics remained, for the most part, the same, with the rage-inducing instance being described in the first three panes and the face screaming on the fourth.@#$&. He is also kinda mean and don't care much that he is saying FUUUUUUUUUUUUUUUUUUUUUUUUUUUUUU-.
Appearance
[
]
Rage Guy appears in Rage Comics when something doesn't go their way or they lose of any way, or maybe just cause they feel like it. He is one of a lot of faces such as Trollface, Me Gusta, and Forever Alone.
Gallery
[
]
Gallery Of Rage Powers
Template
[
]