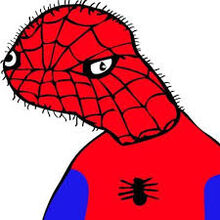 "Helo Am Spodermen"
Spodermen is a meme which like Sanic, Dankey Kang And Dolan, Spodermen is a badly drawn version of Spider-Man. He first Originated in the Dolan Comics as dolan's rival. Spodermen would later on make his YouTube Debut on the Dolan Duk Channel In The uncle Dolan show. Since then Spodermen was popular among memer's. Soon, Spodermen has his own YouTube Channel with thousands of subscribers. Much more subs than the Dolan Duk Channel.
Spodermen's famous Quotes/Dialogues are "Sweg" And "Ur Un Fagit" these words are misspelled versions of the word 'Swag' And 'You're A Faggot'. Later on Spodermen gets his own merch which has T-Shirts, Cups, Hats, and many more. Spodermen also is sometimes known as 'Spooder Men' Or 'Spooder Man'.
Community content is available under
CC-BY-SA
unless otherwise noted.