"Sus" is an abbreviation for "suspicious" often used by players of the game Among Us when referring to those that are suspected of being an impostor. The slang term originally predates its use in the game but is used in the same context. Around the same time that Among Us hit a second wave of popularity around August 2020, the term "sus" became a trending expression during in-game chats to call out players.
Origin
[
]
Outside its use in the game, the slang term "sus" has been used for many years in a multitude of settings. On Urban Dictionary, the top definition was added by user NeonKiwi on July 29, 2019, defined as, "Suspicious, but more … 'lit.' Used as a replacement for suspicious such as when a friend is being awfully quiet."[1] In rap and hip-hop songs, the term also appears numerous times over the years, including artists such as Tyler, the Creator. On an episode of Loiter Squad from 2012 during a segment of "The World According to Taco," the term is explained in detail with examples of Tyler acting "sus." The first meme to use the term "sus" within the context of Among Us is unknown, but one of the earliest examples from Twitter user PRimeExplorer was tweeted on September 6, 2020.[2] The meme (shown below) features a common expression containing the term that's used by players attempting to call out an imposter in a style reminiscent of the video game Danganronpa, which received over 24,000 likes, 6,600 retweets and 62 comments in 12 days.
Spread
[
]
On September 6, 2020, the Instagram account cheemsitz posted another example to their feed featuring Cheems (seen below, top),[3] receiving nearly 65,000 likes in 12 days. On September 13, Redditor ChromosomeStealer posted another version to the /r/memes subreddit (seen below, bottom),[4] accumulating more than 46,500 upvotes, 226 comments and several Reddit awards in five days.
On September 17, Redditor XoverZ posted a variant to the /r/dankmemes sub (shown below),[5] accumulating more than 47,400 upvotes, 142 comments and several Reddit awards in roughly eighteen hours. On September 18, the Instagram account codcampers reposted the meme,[6] receiving over 8,200 likes in two hours.
On September 13, the Facebook page MAD MAX V1 スタンド uploaded an example to their feed using the term (seen below, top), receiving over 1,200 likes and 552 shares in five days.[7] The following day, the Facebook page theScore esports uploaded another version featuring the caption "He was acting sus" (seen below, bottom), receiving over 747 likes and 101 shares in four days.[8]
Related memes
[
]
When the Imposter Is Sus / Sus Jerma
[
]
When The Imposter Is Sus refers to a series of shitposts based on an edited image of streamer Jerma985 in which he is given an eerie, unnatural smile, usually captioned with the catchphrase When the Imposter Is Sus. The meme gained popularity in /r/jerma985 subreddit and in the streamer's Discord, later spreading to Twitter and Instagram.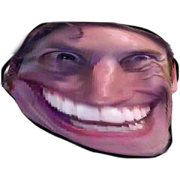 Various examples
[
]
References
[
]