The Meme Wikia is a collaborative encyclopedia about...you guessed it, memes, that anyone can edit, and that currently has 2,248 Articles!
WARNING: Several pages on this wiki contain inappropriate language/content. Viewer discretion is advised.
Help • Terms of Use • Wanted Pages • Categories

Want to join our discord server? Well then, click here!
---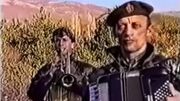 Have you heard of Serbia Strong?

Serbia Strong (aka Remove Kebab) is a music video made by three members of the Serbian army (a trumpeter, an accordion player, and a keyboard player) with very pro-Serbian lyrics.
---





God eater (also known as god devourer) trollge is an incident that is flying. The incident is the roblox incident.
as you see in the orignal video only seen privated, the music is not god eater. The m…
THEBIGDIESEL BROBGONALFOREVER FLYINGMALLARD M-TRAINBALL THE NAPPIES
See more >