The Meme Wikia is a collaborative encyclopedia about...you guessed it, memes, that anyone can edit, and that currently has 2,314 Articles!
WARNING: Several pages on this wiki contain inappropriate language/content. Viewer discretion is advised.
Help • Terms of Use • Wanted Pages • Categories

Want to join our discord server? Well then, click here!
---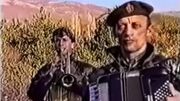 Have you heard of Serbia Strong?

Serbia Strong (aka Remove Kebab) is a music video made by three members of the Serbian army (a trumpeter, an accordion player, and a keyboard player) with very pro-Serbian lyrics.
---





PTBA
Phase 1: A modern avatar with green hoodie and a white mask resembling Dream.
Phase 2: A avatar wearing a white butterfly hat with brown, rainbow cartoony hoodie, black pants, and white shoes.
Phas…

Esortsyt
•
So guys we did it, we reached a quarter of a million subscribers.
See more >