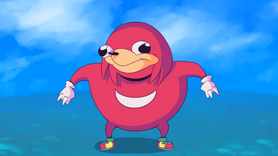 Ugandan Knuckles is a meme about a chubby and small version of the character Knuckles from the popular platformer game by Sega called Sonic the Hedgehog. The character was later turned into a chubby character and the meme was named Ugandan Knuckles. Later, a 3D model of the character was made and it was put into a game called VRChat, and the players of the game started using the 3D model of Ugandan Knuckles and started walking up to people, asking them if they know "da wae" in a Ugandan accent.
Ugandan Knuckles (commonly known as "do you knoe de wae?") a meme that was originated from a youtube channel named Stahlsby and posted a video titled as YOU DO NOT KNOW THE WAY on December 22 of 2017. Another one was there was a little clip of a chubby and animated version of Knuckles that says "Oh no." and became the Uganda Knuckles meme in the video titled as KINDA REVIEWS // Sonic Lost World by the youtuber named Gregzilla that was posted on February 20, 2017.
Community content is available under
CC-BY-SA
unless otherwise noted.